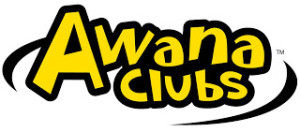 AWANA helps churches and parents work together to develop spiritually strong children and youth who faithfully follow Jesus Christ. Our programs offer a proven approach for evangelizing and disciplining kids in the church and community.  All families and children are welcome and encouraged to join us.
Our 2016/2017 Club Registration kick off will be on Sunday, August 28th from 4-6pm. Dinner will be at 4pm in the Fellowship Hall with water activities to follow.
When regular Club meetings begin, we will be checking in the kids from 3:50-4pm in Dudley Hall and then heading out to the basketball court for pledges, prayer and announcements.  For safety reasons, please have your children wear tennis or athletic shoes (no sandals) to the club meetings.  At 6pm each meeting, all children will be picked up where they were signed in and we will require parents to check their sign out. Complete your registration form, print, and return the Clubber Registration form below TODAY!
2016-2017 Clubber Registration