March 30 – Four Guys at Five Guys
Today (and actually ¼ of yesterday) is a travel day. I'm writing this in the air on our way from Washington DC to Charlotte, North Carolina.  We arrived in the states at around 6am this morning (Eastern Standard Time) after stopping off in Dakar (somewhere in the northwest part of Africa).  I have to admit, I am truly only used to traveling by air no more than a couple hours max, so this 20 something hours of plane travel is not my cup of tea (sure glad Beth is with me to help pass the time).
Before we left yesterday we spent the morning with Hope Baptist Church in worship.  The praise music was out of this world.  We were invited to dance with them as we sang, but I have not rhythm, so I just clapped and swayed (it's a kind of dancing).  Anyhow, their worship in song was something to see.  God's people sang, danced, lifted hands, clapped, and God was praised – wish I could bottle that up for yall and bring it home for you to enjoy.  Mitch preached that morning; his message of love and unity were unmatched.  Thanks, Mitch.
We left right after the morning worship to head to the airport. We were on a tight schedule, but we did get to spend a little time to exchange gifts with the leadership; thanking them for what they are doing in Pretoria and Sunnyside, South Africa.
As with any tight schedule, delays are expected. Ours began with a freeway shutdown. It took about an hour and a half to travel the 2 miles to the closest exit. That sort of ate up our check in time, but it also complicated a planned drop off of a package and van rental return. The solution was to unload the bulk of us while Mitch raced through Johannesburg to tie up the loose ends. Anyhow, as we boarded the plane it became quite evident that Mitch was not going to be back in time. He actually got as far as the check-in gate with 5 minutes to spare – so we were told. But, well things don't always go as they should. We understand that he'll be in the states a day behind us. There more to the story. Much more, but I will let Mitch share that.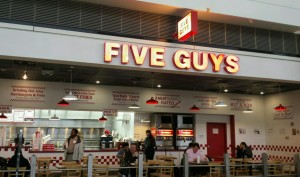 We arrived in Washington DC relatively hungry, and in the terminal we found a Five Guys restaurant.  We ate, reflected a bit about how our (my) deodorant was no longer working, and then shopped for a replacement shirt due to the….  Anyhow with some wet wipes, a stick of deodorant, and a new shirt, we boarded our plane to Charlotte.  Oh yeah, the title of this blog and the picture – only four of us got to eat at Five Guys.  If only Mitch….
– Steve
March 28 –

I spy with my little eye…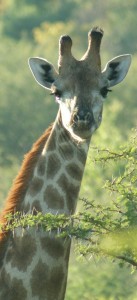 Today was a day without a schedule, timeline, deadline, appointment or assignment. A play day. So, like any relaxing day, we got up before the crack of dawn (whaaa? it was that early ). Yep. To be more accurate we rolled out of bed at what some consider the middle of the night; like teenagers sneaking out after their parents are asleep.
We arrive at the Pilanesberg Game Reserve by 5am for an open air jeep tour. The reserve is an expansive 225 square miles of open landscape, less a few rutted roads. As the sun rose we spotted what appeared to be a few playful jackals. Seems they had invited themselves to a breakfast of Kudu (an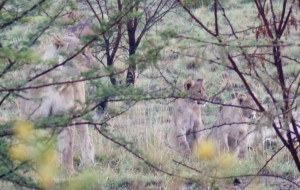 antelope…sort of). Not far up the road we happen upon the sous chefs and their respective entourage. Two lionesses and their cubs – maybe seven cubs. Pretty amazing. The tour was filled with exotic wildlife and breathtaking landscapes. God is so incredible!!
After a bite to eat we had a little shopping excursion. The market was entertaining as the vendors promised the "best price". "No pressure, Miss Beth". Their 'no pressure' sales pitch was nothing but pressure. I discovered, if I spoke to Steve in a little Spanglish the vendor wouldn't interrupt our discussion in an attempt to persuade the deal (note to self: South Africans are fluent in many languages but, Spanglish isn't one of them).
We'll finish out the day by packing our bags. It's been an amazing week!
Looking forward to worshiping tomorrow with Hope Baptist Church.
– Beth
March 27 – Pinch Pots

Ever have one of those days when you are very aware that the Evil One wants to keep you from accomplishing something? Well today was one of those days for this team. Our work all week long was to come together tonight to celebrate "Arts for Jesus" with the community of Hope Baptist Church in Sunnyside. There were many things to do and strategic plans were in place as our day began. In the midst of the challenges, God was clearly in control as we experienced His favor throughout the day.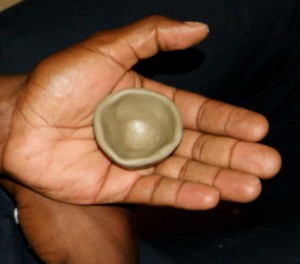 As for most, tonight was a first experience for me.  My words can never communicate how God brought every word and activity of the week together in the 2 hours that transpired tonight. As our week came to together in this closing celebration, Cintia (Pastor Julius' wife) led more than 30 of us to praise God in African praise songs. This is an experience that I look forward to with each trip. Holly, Steve and I shared our story through our picture.  Beth led us throughout the evening, bringing together her gifts in art with God's Word and His purpose for our lives. She included the crowd in creating their own "pinch pot" to draw them into Gods Word. She continued bringing to life how God molds and refines us for His purposes as she created a pot using a very old potter's wheel. Jeremiah 18 was shared, "Behold, like the clay in the Potter's hand, so are you in My hand." As Pastor Mitch and Pastor Julius closed out the evening inviting us to let God change us at His Will as the potter changed the clay, I heard several praying aloud repentance, dependence, and new life in Christ. Beautiful!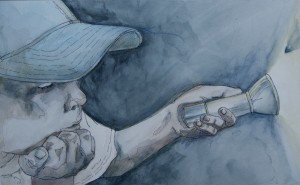 On a side note: Sharing the Gospel through our personal stories in the park during the week, while Beth drew and painted, was life changing for me.  To see God's hand on my life depicted in a picture provided by the Holy Spirit is very cool! I am grateful for her gift and I will continue to share my story with this picture. Most could identify with our picture in their own life. It was very meaningful.
– Mona
March 26th – LTD

It has been amazing how God is in complete control of this week!  Today started out with a wonderful cool rain, So our plans to go to the Union buildings and the park this morning were interrupted.  We took full advantage of the time we had to finalize our agenda for Friday night's "Art with Jesus" at Hope Baptist Church.  It will be an incredible event that Mona will share with everyone in her blog tomorrow.  The afternoon appeared to be shaping up much better weather wise and we were able to get to the park so that Beth could draw and the rest of the team could share with those in the area.  We were able to speak to several people in the park and invite them to the event on Friday night.  As Mona and I have talked with children in the area we hear all sorts of stories.  Mona is even more of a kid magnet than me.  Yesterday and today we were able to share with the kids how God loves them and sent His son to save them. It is sad to hear how many of these children are bullied and what they have to endure. Please pray for these beautiful children of Pretoria and there safety and well being and that they will be able to find a refuge in times of trouble.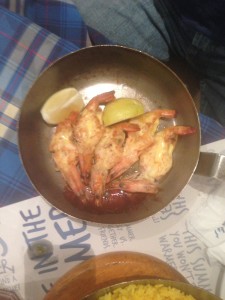 We then had a late lunch and went out for seafood.  Those of you that know me are aware that I'm not a big seafood fan.  I will eat shell fish however.  Mitch suggested the prawn, so I said after viewing them on the menu "What are those black dots on them?" I was informed that those were their eyes. I'm not going to lie that it did creep me out a little. I ordered them and asked to have the heads cut off before.  They must of missed that last request because when they came to the table they were staring at me!  Thankfully Mitch was willing to remove the heads for me quickly.
In the evening we were able to have small group sessions at Hope Baptist Church.  Steve led the men in a study on "How God shapes a man" and the ladies finished up our study on personal quiet time and prayer.  The woman of Hope Baptist Church are eager to learn and to draw closer to a relationship with Jesus.  We were all challenged to set an appointment with God everyday.
It has been a complete joy getting to meet the family of Hope Baptist Church and form some relationships. As a friend of mine recently said…"We are living the dream!"  "LTD"
– Holly
March 25th – Change in Plans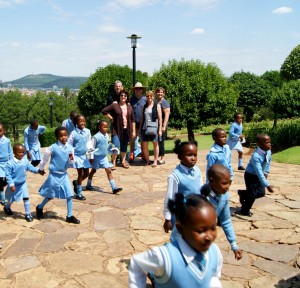 Today's plan was to be another day of "Art in the Park", however God had a different plan. We started the day back at the Union Buildings for prayer walking in preparation for meeting people that are in need of the direction and purpose only God can provide. As we finished our prayer time it became evident that we needed to go back to Hope Baptist Church to make additional preparations for the Friday ministry of "Art for Jesus" (a title created by Pastor Julius – he has a desire to find ways to reach the community through art). The vision for the Friday service will most likely result in one of the coolest things I will ever be a part of.  I will leave the details of that service to Mona since she will be in charge of the blog for Friday night.  
We were so involved with our planning that lunch was a thing of the past and it was time for a hearty 'linner'. Afterward, some of the team to met with the leadership of Hope Baptist Church to talk about financial strategies and how they will continue to obediently meet the needs of the community with the funds God has provided.  Mitch, Mona, and I got a chance to talk about budgets and ministry motivations.  It was exciting to see the leadership of Hope Baptist Church wanting to take a huge step in ministry, and to do it correctly from a financial strategy perspective.
Tomorrow, Holly will be leading out on a study of prayer disciplines for the women's group, while I will be leading the men in a study on "How God Shapes a Man"; focusing on how God uses our past experiences to prepare us for ministry. Indeed, this evening's discussion with Hope Baptist's leadership about their financial responsibilities pointed to that focus since the three of us have a background that totally spoke to the church.  As most of you know, I love being a part of a small group meeting – and this was exactly what tonight was – way too cool.  God moved.
– Steve
March 24th – Texas is a Great Place

Ok I have to admit, today I experienced a first. Traveled all over the world doing mission trips. Traveled with all kinds of men and women doing mission trips. Traveled with all kinds of "plans" that equip me and women to share the message of the Gospel. I think I have heard, taught and used just about every on-line opening statements to do just that. You have used many of them yourself. "In your opinion, what does it take for a person to go to Heaven"? / "Have you heard of FAITH" / "if you died today and were standing before God Himself, and he asked you, why should I let you into my Heaven…" I think by now you have the idea. Well today while standing in the middle of a park in South Africa I learned a new one. One that would have never hit my radar screen 10,000 miles from CVBC but it seemed to work. What was it? You guessed it, "Texas IS a Great Place" needless to say most of you taking the time to read this know where that statement came from, our very own Steve Shook. Only Steve could find a homeless guy in a park in South Africa that knows anything about west Texas, and Steve might also be one of the only guys I know that could take that and turn it into a witnessing encounter, but he did. Today was Great! I watched God do some amazing things, tear down some huge barriers and as a result, Heaven has 5 new souls that can now call that their Eternal Home! A homeless guy in a park got a hug and a prayer from a west Texan sold out for Christ and yes, there were witnesses.
Oh yeah, that homeless guy showed up at church tonight along with 30+ others to hear more about how God can change and work in the lives of everyday people. Great Day!
– Mitch
March 23rd – Beth's first blog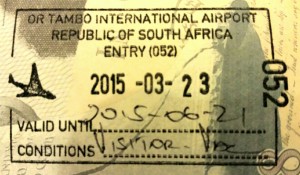 We arrived in Johannesburg safe and sound, if not considerably tired after our 14 hour and 10 minute flight from New York. We were welcomed at the airport by Pastor Julius Mbu and Mitch. Mitch had settled in a couple days ahead of us; after his work in Mozambique finished up. From there we loaded up the van and made our way to Pretoria.
Entering Pretoria from Johannesburg we are met by the impressive facade of The University of South Africa. After a stop by Hope Baptist Church, we made our way to get a little lunch…or breakfast (at this point I wasn't sure what time of the day it was) and then a little tour (perhaps a bit unintended…there is a general lack of street signs and that whole driving on the left side of the road thing…eek!) of Pretoria and Sunnyside. We saw manicured parks while the streets are lined with idle men. We drove past beautiful old homes backdropped by well worn apartments. We recognized the well dressed formality of a people that have struggled against a culture of division. South Africa is a country of contrasts.
We met with Pastor Julius for a dinner meeting to sure up our plans for tomorrow. During our dinner, we asked and so Julius shared with us how apartheid begot a culture of division. While creating for us a deeper understanding of the way things were to why they are how they are, Pastor Julius stated that he felt the first immigrants to land in Cape Town didn't come to divide but were mandated by God to bring hope to the people; to bring the gospel of Christ. That is where we begin. Continue in prayer.
We are off and running by 9am.
– Beth
March 21st – Holly's first blog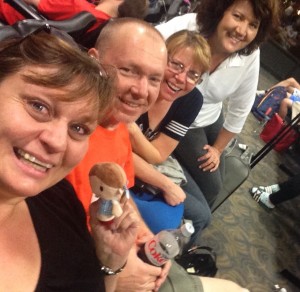 Well the day has arrived. We all managed to pack our bags and not exceed the 50lbs weight limit. We did do a little shuffling at the airport however. I was able to spend the day checking my list and checking it twice. Then throw it all in the appropriate bag. I also got some much needed rest and some quiet time putting my thoughts together for what we are sharing with the women in Pretoria.
Traveling with me is "Dotty". She is very adventurous.
I want to take a moment to thank each of you who have been and are continuing to lift us up in prayer. God has great plans for our trip and it will be very exciting to see how He works through us all this week!
So until next time…
Holly and Dotty
---
March 20th – Steve's first blog

This is Friday.  Friday's are awesome – not just that it's the end of the work week, but it is Whataburger night.  Nothing like having a Whataburger with family and friends.  We are putting the finishing touches on our packing as we get ready to head out to Pretoria, South Africa on Saturday.  We excited about what God is going to do through our time ministering to Hope Baptist Church as well as the people in the surrounding area.  I will have the opportunity to share with the men of Hope what men's ministry is all about and why it should be something they incorporate in their ministries.   I will be using Henry and Tom Blackaby's study – The Man God Uses.  The start of the study focuses on 1 Corinthians 1:27-28, highlighting the fact that God used and will continue to use ordinary men to affect His kingdom in extraordinary ways.
This trip will be a milestone for me and Beth since we have never been off the mainland – good stuff.  Well, I still have to get my hair and toenails cut before I can say I am ready to go – nothing like good hygiene.  Hey, please keep us in your prayers and that God's kingdom will be benefited from our time in Pretoria.
– Steve